The Susan G. Komen Race for the Cure Start-to-Finish Marketing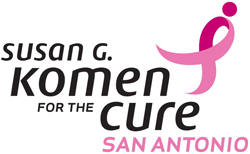 The Susan G. Komen San Antonio Race for the Cure project is a great example of a direct marketing campaign that shows how to get the results you want, when you want them.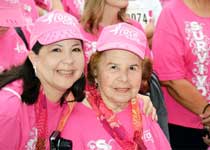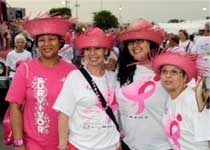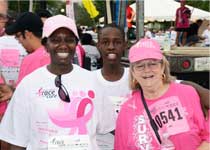 The relationship between PCMS and the San Antonio Affiliate of Susan G. Komen for the Cure dates back to 2004.We are gratified that the Komen San Antonio Race for the Cure event has grown each year and that approximately 30,000 annually support the fight to end breast cancer.
PCMS owner Desi Cain states, the relationships we have developed over the years are not only on a professional business level but also on a lifetime personal level.
Each year our IT department, warehouse, and production areas of PCMS becomes a complex machine that prepares over 20,000 Race for the Cure participant packets.
The project consists of packaging each participant's individualized order, which includes his or her specifically sized T-shirt, race number bib, along with hats, race bulletins, pillow cases, pledge forms, tote bags, bracelets, and lanyards.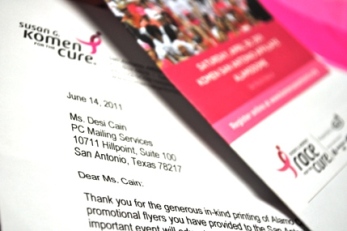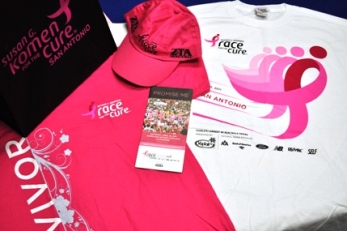 This project involves large volumes of Database Management, Full Color Printing, sorting and packaging race materials, along with mailing and delivering Race Packets to each participant.
The coordination of this project is a huge undertaking, taking many hours to fulfill this project, but according to Desi, so worthwhile. Togeather we have streamlined this process.
Your campaign is as important to us as it is to you. We at PC Mailing Services recognize that no two campaigns are alike and we respect customer input. With our experienced staff, your campaign, large or small, will be customized to your specific needs.
Large or small, call PC Mailing today at (800) 976-8071 or (210) 599-8071 in San Antonio, Texas for experienced guidance with your marketing campaign, start-to-finish.
The running ribbon is a registered trademark of Susan G. Komen for the Cure.
Let's talk about your next project.
No matter your marketing challenge, call PC Creative Services today at (210) 599-8071 in San Antonio, Texas to put our marketing experience to work for you.